Pilanesberg Game Reserve is a birders paradise with over 300 species being recorded. The best time for bird viewing is the summer months where one can one record over 80 species in a single day.What makes the park popular amoungst birders is the six great bird hides dispersed over the reserve which gives guests the opportunity to get out of their vehicles, stretch their legs and enjoy the birdlife. When planning which hide to visit and photograph birds keep the following in mind:
West-facing hides: Rathogo provides good photographic lighting in the mornings.
East-facing hides: Ruighoek , Mankwe & Malatse are great in the afternoons.
North-facing hides: Makorwane and Batlhako are better suited to low light photography on cloudy days.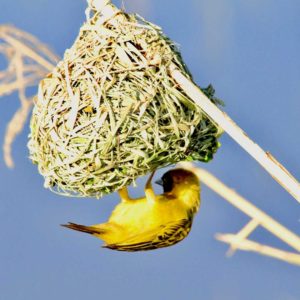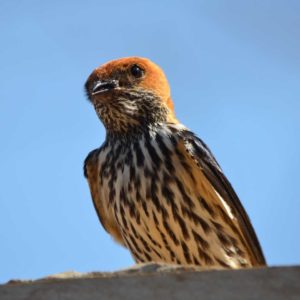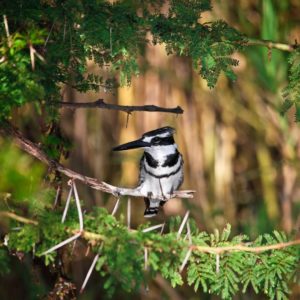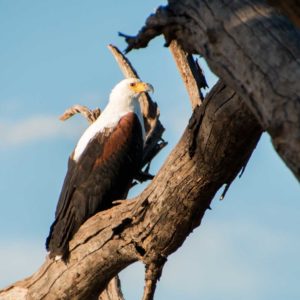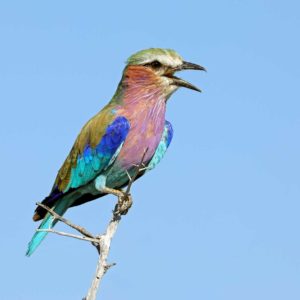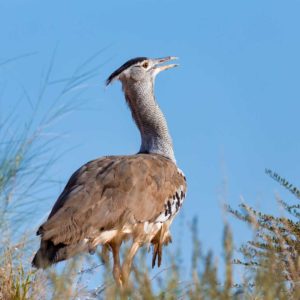 One of the most popular hides in the park is Mankwe Hide. The dam attracts many water birds such as blacksmith lapwings, grey, black-headed and Goliath herons, pied kingfishers, malachite kingfisher, great white egrets, Egyptian geese and white-faced whistling ducks to name a few. Also be on the look out for the African fish eagle which is seen perching high above overlooking the dam.
Did you know that Ivory Tree Game Lodge offers bird drives which are tailor made to suit everyone, from someone starting out to experience the great joy of Birding to the experienced "Twitcher" looking for that ever elusive "Lifer Tick" to add to their list. Enquire when making the reservation about this activity
Below is a list of the birds that have been recorded in Pilanesberg Game Reserve:
| | | |
| --- | --- | --- |
| Abdims Stork | Forktailed Drongo | Pied Kingfisher |
| Afrian Hawk Eagle | Freckled Nightjar | Pied Starling |
| Afrian Marsh Harrier | Gabar Goshawk | Pintailed Whydah |
| African Black Duck | Garden Warbler | Plainbacked Pipit |
| African Crake | Giant Kingfisher | Plumcoloured Starling |
| African Cuckoo | Glossy Ibis | Puffback |
| African Fish Eagle | Golden Bishop | Purple Heron |
| African Hobby Falcon | Goldenbreasted Bunting | Purple Roller |
| African Jacana | Goldentailed Woodpecker | Purple Widowfinch |
| African Pied Wagtail | Goliath Heron | Pygmy Kingfisher |
| African Spoonbill | Grass Owl | Quail Finch |
| Alpine Swift | Great Crested Grebe | Rameron Pigeon |
| Anteating chat | Great Reed Warbler | Rattling Cisticola |
| Arrowmarked Babbler | Great Sparrow | Red Bishop |
| Ashy Tit | Great Spotted Cuckoo | Redbilled Buffalo Weaver |
| Avocet | Great White Egret | Redbilled Hornbill |
| Barn Owl | Greater Flamingo | Redbilled Oxpecker |
| Barred Warbler | Greater Honeyguide | Redbilled Quelea |
| Barthroated Apalis | Greater Kestrel | Redbilled Teal |
| Bateleur | Greater Striped Swallow | Redbilled Woodhoopoe |
| Bearded Woodpecker | Green Pigeon | Redbreasted Swallow |
| Bennets Woodpecker | Green Sandpiper | Redcapped Lark |
| Black Crow | Greenbacked Heron | Redchested Cuckoo |
| Black Cuckooshrike | Greenshank | Redchested Flufftail |
| Black Eagle | Greenspotted Dove | Redcollared Widow |
| Black Egret | Grey Heron | Redeyed Bulbul |
| Black Flycatcher | Grey Hornbill | Redeyed Dove |
| Black Kite | Grey Lourie | Redfaced Mousebird |
| Black Korhan | Grey Penduline Tit | Redheaded Finch |
| Black Sparrowhawk | Greybacked Bleating Warbler | Redheaded Weaver |
| Black Stork | Greyheaded Bush Shrike | Redknobbed Coot |
| Black Sunbird | Greyheaded Sparrow | Redthroated Wryneck |
| Black Swift | Greyhooded Kingfisher | Redwinged Starling |
| Black Widowfinch | Groundscraper Thrush | Reed Cormorant |
| Blackbreasted Snake Eagle | Gymnogene | Richards pipit |
| Blackcheeked Waxbill | Hadeda Ibis | Rock Bunting |
| Blackchested Prinia | Halfcollared Kingfisher | Rock Kestrel |
| Blackcollared Barbet | Hamerkop | Rock Martin |
| Blackcrowned Night Heron | Harlequin Quail | Rock Pigeon |
| Blackcrowned Tchagra | Helmeted Guineafowl | Ruff |
| Blackeyed Bulbul | Hobby Falcon | Rufouscheeked Nightjar |
| Blackheaded Heron | Honey Buzzard | Rufousnaped Lark |
| Blackheaded Oriole | Hoopoe | Sabota Lark |
| Blackshouldered Kite | Horus Swift | Sacred Ibis |
| Blacksmith Plover | House Martin | Sanderling |
| Blackthroated Canary | House Sparrow | Scalyfeathered Finch |
| Blackwinged Stilt | Icterine Babbler | Scimitarbilled Woodhoopoe |
| Blue Crane | Jackal Buzzard | Secretary Bird |
| Blue Waxbill | Jacobin Cuckoo | Shaft-tailed Whydah |
| Bluebilled Finch | Jamesons Firefinch | Shelleys Francolin |
| Bluecheeked Bee-eater | Kalahari Robin | Short-toed Rock Thrush |
| Bluegrey Flycatcher | Klass's Cuckoo | Sops Owl |
| Bokmakierie | Knob-billed Duck | South African Shelduck |
| Booted Eagle | Kori Bustard | Southern Black Tit |
| Broadbilled Roller | Kurrichane Buttonquail | Southern Boubou |
| Bronze Manniken | Kurrichane Thrush | Southern Pochard |
| Bronzewinged Courser | Lanner Falcon | Speckled Mousebird |
| Brown Snake Eagle | Lappetfaced Vulture | Spotted Dikkop |
| Brownhooded Kingfisher | Larklike Bunting | Spotted Eagle Owl |
| Brownthroated Marten | Laughing Dove | Spotted Flycatcher |
| Brubru | Lazy Cisticola | Spottedbaked Weaver |
| Buffy Pipit | Lesser Flamingo | Spurwinged Goose |
| Burchells Coucal | Lesser Grey Shrike | Squacco Heron |
| Burntnecked Eremomela | Lesser Honeyguide | Steelblue Widowfinch |
| Bushveld Pipit | Lesser Masked Weaver | Steppe Buzzard |
| Cape Eagle Owl | Lesser Moorhen | Steppe Eagle |
| Cape Glossy Starling | Lesser Striped Swallow | Stonechat |
| Cape Penduline Tit | Levalliants Cisticola | Streakyheaded Canary |
| Cape Reed Warbler | Lilacbreasted Roller | Striped Cuckoo |
| Cape Robin | Little Banded Goshawk | Striped Kingfisher |
| Cape Rock Thrush | Little Bee-eater | Striped Pipit |
| Cape Sparrow | Little Bittern | Swainsons Francolin |
| Cape Turtle Dove | Little Egret | Tawny Eagle |
| Cape Vulture | Little Sparrowhawk | Tawnyflanked Prinia |
| Cape Wagtail | Little Stint | Temmincks Courser |
| Cape White-eye | Little Swift | Threebanded Plover |
| Capped Wheatear | Longbilled Crombec | Threestreaked Tchagra |
| Cardinal Woodpecker | Longbilled Pipit | Tit Babbler |
| Carmine Bee-eater | Longtailed Shrike | Tree Pipit |
| Cattle Egret | Longtailed Widow | Violeteared Waxbill |
| Chinspot Batis | Malachite Kingfisher | Wahlbergs Eagle |
| Cloud Cisticola | Maribou Stork | Waiting Cisticola |
| Common Quail | Marico Flycatcher | Water Dikkop |
| Common Sandpiper | Marico Sunbird | Wattled Plover |
| Common Waxbill | Marsh Owl | Wattled Starling |
| Coqui Francolin | Marsh Sandpiper | White Helmetshrike |
| Crested Barbet | Martial Eagle | White Stork |
| Crested Francolin | Masked Weaver | Whitebacked Duck |
| Crimson Boubou | Melba Finch | Whitebacked Mousebird |
| Crowned Plover | Melodious Lark | Whitebacked Night Heron |
| Cut-throat Finch | Mocking Chat | Whitebacked Vulture |
| Dabchick | Monotonous Lark | Whitebellied Sunbird |
| Darter | Moorhen | Whitebreasted Cormorant |
| Desert Cisticola | Mountain Chat | Whitebrowed Robin |
| Diederick Cuckoo | Namaqua Dove | Whitebrowed Sparrow-weaver |
| Dusty Lark | Natal Francolin | Whitecrowned Shrike |
| Egyptian Goose | Neddicky | Whitefaced Duck |
| Ethiopian Snipe | Olive Thrush | Whitefaced Owl |
| European Bee-eater | Orangebreasted Bush Shrike | Whitefronted Bee-eater |
| European Cuckoo | Orangebreasted Waxbill | Whiterumped Swift |
| European Golden Oriole | Orangethroated Longclaw | Whitethroat |
| European Marsh Warbler | Osprey | Whitethroated Robin |
| European Nightjar | Ostrich | Whitethroated Swallow |
| European Roller | Ovambo Sparrowhawk | Whitewinged Tern |
| European Swallow | Painted Snipe | Whitewinged Widow |
| European Swift | Pale Chanting Goshawk | Willow Warbler |
| Fairy Flycatcher | Palm Swift | Wood Sandpiper |
| Familiar Chat | Paradise Flycatcher | Woodland Kingfisher |
| Fantailed Cisticola | Paradise Whydah | Yellowbellied Eremomela |
| Fantailed Flycatcher | Pearlbreasted Swallow | Yellowbilled Duck |
| Fawncoloured Lark | Pearlspotted Owl | Yellowbilled Egret |
| Fierynecked Nightjar | Peregrine Falcon | Yellowbilled Hornbill |
| Fiscal Flycatcher | Pied Babbler | Yellowbilled Kite |
| Fiscal Shrike | Pied Barbet | Yellowbilled Stork |
| Flapper Lark | Pied Crow | Yelloweyed Canary |